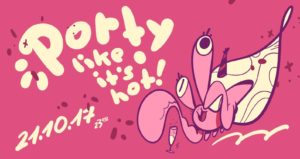 Freudenfluss Network presents:
PorTy like it's hot
Let's get down together and celebrate the Awards at PorYes-Soli-Party at Gretchen.
We will be entertained by sparkling performances, hot surprises, sexy sensations, thumping beats and pure pleasure all night long.
Hoe_mies, Krawalle & Liebe, Special live guest, Performances Sextoy Swap Counter, Kuschel-Sexecke, Rave Awareness Berlin                                  
Don't think twice, October 19th is set from 11pm to 5am, PorYes, we cunt!
Gretchen, Obentrautstr.19-21, 10963 Berlin
Cover: 
more PorYes-Events:
Saturday, October 19st, 8pm: Award at Hebbel Theater
Sunday, October 20nd, 4pm: PorYes Panel, Urania
Monday, October 21rd, 7pm: PornTalk, Humboldt University
AUDIENCE AWARD Presentations in the PorYes-Salon: Fridays at PorYes-Salon, sExclusivitäten