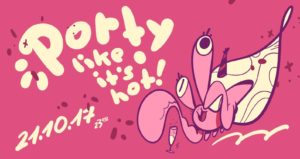 Freudenfluss Network presents:
PorTy like it's hot
Let's get down together and celebrate the Awards at PorYes-Soli-Party at Freudenzimmer
We will be entertained by sparkling performances, hot surprises, sexy sensations, thumping beats and pure pleasure all night long.
On the turntables:
kos_mic q'andi (based in Berlin) bringing genre-defying sound from middle-eastern pop to hiphop, r&b and trap to the dancefloor
ProZeccos, a DJ* collective with a feminist, anti-sexist mix. The ProZeccos are L_Sa, Iruka and Twizted Liz and they play together with Le_go.
plus ultra fresh beats by Fresh_f.
Clausette La Trine from Bern with all the 70s and 80s hymns you need
Don't think twice, October, 21 is set from 11pm to 5am, PorYes, we cunt!
Freudenzimmer Mehringdamm 61, 10961 Berlin, backyard
An elevator is avaible, though no accesible toilets
Cover: 8-12€
If you have an award ticket or pay 12€, your support will be rewarded with a little something cute
more PorYes-Events:
Saturday, October 21st, 8pm: Award at Hebbel Theater
Sunday, October 22nd, 4pm: PorYes Panel, Urania
Monday, October 23rd, 7pm: PornTalk, Humboldt University
AUDIENCE AWARD Presentations in the PorYes-Salon: Fridays at PorYes-Salon, sExclusivitäten