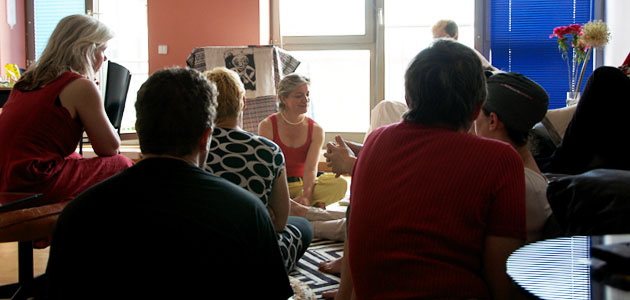 Sexclusivitäten is a sex-positive company, that brought, 30 years ago, top-quality and women* and genderqueer-friendly toys to Germany. Since then, we have been promoting, along with the Freudenfluss network, sexual education and communication, and celebrate gender and and sexual diversity.
Ever friday, from 4 to 8pm, we meet for the Freuden-Salon to spread relishful and positive sexualities and for joyful participating and contributing!
We also regularly hold PorYes-Salons, where we watch films by award nominees together, discuss and vote for them. The most liked once will receive the audience award.
Date: every last Friday / Time: 6-8pm / Address: sExclusivitäten, Fürbringer Straße 2, 10961 Berlin
Friday, 27.1.23, 18Uhr: Feminist Porn Watching: 
Friday, 31.3. 23 18Uhr: Feminist Porn Watching Orga-Meeting Freudenfluss Network
Friday, 28.4.23 18Uhr: Feminist Porn Watching wit Popo Fan
Friday, 26.5.23 18Uhr: Feminist Porn Watching with PorYes Clips
Friday, 30.6.23 18Uhr: Feminist Porn Watching with Clips from Deborah Sundahl
Friday, 28.7.23 18Uhr: Feminist Porn Watching with Clips from Eri Sarmet
Friday, 25.8.23 18Uhr: Feminist Porn Watching with Clips from Aorta Production
Friday, 29.9.23 18Uhr: Feminist Porn Watching with Clips from Aba Naia
Friday, 13.10.23 18Uhr: Feminist Porn Watching with PorYes Clips
Friday, 20.10.23 18Uhr: Feminist Porn Watching Orga-Meeting Freudenfluss Network